Feature information can generally be groupings of text and other visual elements such as product images, feature pictograms, videos, and other graphics describing a feature of a product on a website or printed media. A definition to transport feature
1. Content Object Definition
Properties that can be added to define a content object.
Properties
(currently identified)

Description

Subject

The topic of the resource E.g., feature content, brand profile, product category…

Title

The text to be displayed as the highest-level title or heading of the object.

Subtitle

Used for a subtitle with a lower level than title or sub headline of the object.

ShortText

Used as a short description, or short version of the long text.

LongText

Used for full length, descriptive text.

Keywords

Used to provide key words for search and filter purposes.

Disclaimer

Used to provide any statement intended to specify or delimit the scope of rights and obligations.

Footnote

Used to provide footnotes or references for the short or long text.
Content Objects and Assets
Content objects and Assets are designed to fulfil the following criteria:
Assets: For single media types E.g. Product picture or Energy Label, referenced by products and/or Content Objects.
Content object: When multiple media types are required to form a piece of content E.g. A product feature containing subject text, description text, icon image, and feature image.
2. Web Examples
Examples of the type of information to be delivered with Content Object structures.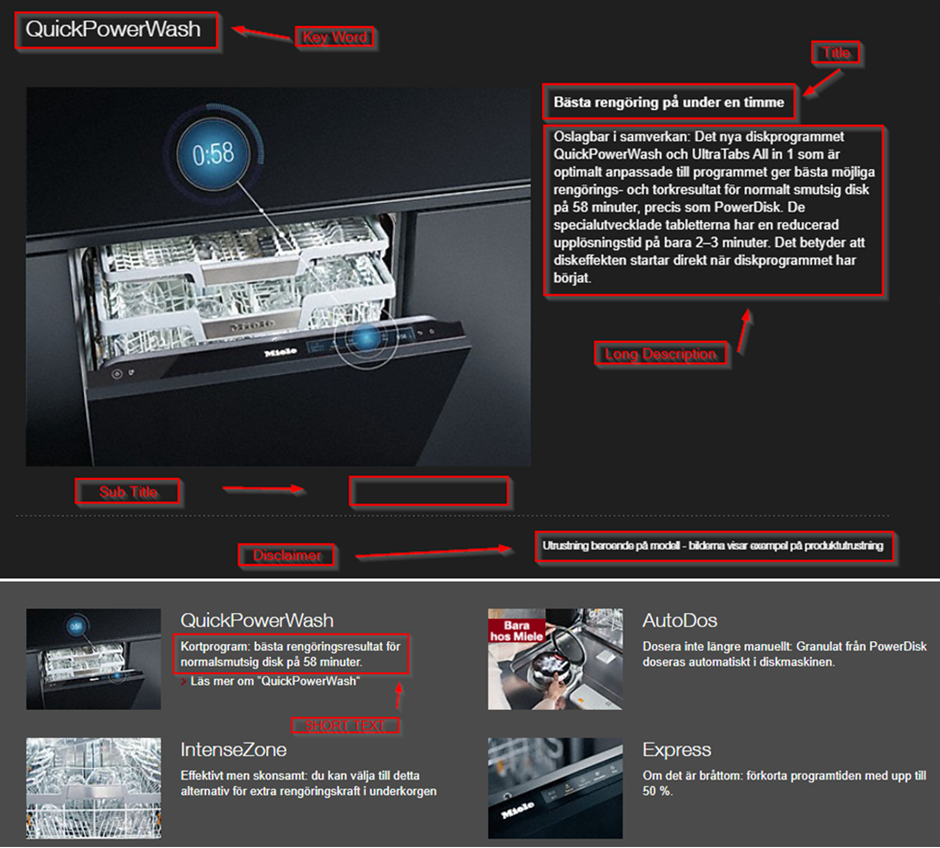 Not found what you were looking for?